Dolls House Scale Guide
Author: The Dolls House Boutique


When buying a dolls house and furniture or dolls to go in it, it's important to consider the scale of the house and accessories to ensure it will all work nicely together. We often get asked the same 3 questions about dolls house scales. Firstly, what the scale itself means. Secondly, can you mix and match furniture sizes, and, thirdly, which is the best scale for my child? We hope this guide gives you the information you need to feel confident when purchasing a dolls house:
What is a doll's house scale?
Dolls houses are typically designed to replicate a real house and to add an element of realism their proportions tend to follow similar dimension ratios, too. Each product on our website includes a scale icon which helps to show its size and the proportions to which it's been designed. Dolls House scales are measured in imperial measures, and, in simplest terms can be broken down by the following formula:
1

inch on the dolls house = x inches on a real item
We explain each scale further below:
1:6 Scale
The 1:6 dolls house scale is sometimes called the Fashion Doll scale. They are suited to Barbie or similar 30cm tall dolls. KidKraft dolls houses are made in this scale. These dolls houses are the largest ones available and consideration needs to be given to whether they will fit into the space available.

1:12 Scale
1:12 scale is sometimes called one-inch scale and means 1 foot (or 12 inches) on a real item that has been scaled down to 1 inch. If you measure the ceiling in your house and it's 10ft, it would be 10in in the dolls house. This is the most common scale for children's dolls houses and our Le Toy Van and Hape houses and furniture are designed according to this size.
1:16 Scale
The 1:16 dolls house scale is sometimes called the 3/4 scale. One inch in this scale equals 16 inches on a real item, or 3/4 inch equals 1 foot. Djeco and Sylvanian Families (excluding the animal figures) are made in this scale.
1:18 Scale
Lundby dolls houses are made in the scale of 1:18 (sometimes called 2/3 scale). The same scaling rules apply as above: 1 inch in this scale equals 18 inches on a real item.
Which furniture scales work together?
Not all furniture will fit into all dolls houses and large furniture may clutter the rooms of a smaller scaled house or simply not fit at all. Smaller scaled furniture can sometimes work nicely in a larger dolls house as it can give the rooms a grand feeling as the ceilings will look taller. We do recommend selecting items from the same scale though, as your dolls house could end up looking mismatched otherwise. It's completely up to you what furniture you put into your dolls house but this table may help narrow the items you consider:
SCALE
COMPATIBILITY
GUIDE

Furniture Scale

1:6

1:12

1:16

1.18

Dolls House Scale

1:6

1:12

1:16

1.18
Which scale is best for my child?



This completely depends on the age of your child, their fine motor skills and how gentle they are in their play. You may find a larger dolls house (e.g. 1:12 scale) is better for younger children as the pieces are bigger and typically easier to handle by little hands while a smaller house will often have more detailed features which could be better suited to a slightly older child who can interact with it more easily. This isn't always the case though, so each product has a recommended age icon to help you decide.

Many furniture sets come with miniature accessories like cups and books and if you have a child under 3, we recommend putting these aside until they are older as they could pose a choking hazard. Any products that don't meet the Australian standard for under 3 year olds have this symbol on them.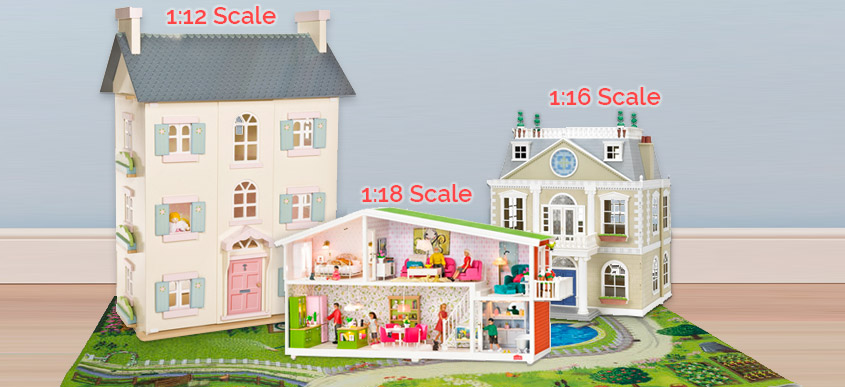 ---
Comments (5)
What about playmobil?

Which scale is best for them?





The Dolls House Boutique Response
Playmobil is approximately 1:24 scale. Some Playmobil sets can work well with other larger scaled items e.g. the bunny hutch combines nicely with Djeco, Lundby and Sylvanian Families.
---
Sylvanian families

16 March 2018

What dollhouse and furniture scale is best for Sylvanian families? I'm looking to buy a DIY kit to make for my Sylvanians and I want to get the right scale size.





The Dolls House Boutique Response
Sylvanian Families furniture is 1:16 scale but a 1:18 scale DIY kit would still be okay size wise. Sylvanian Families animal families sizes aren't true to any scale however they are suitable across a range of house scales. They are even ok in 1:12 scale houses!
---
Barbie

By:

Regan

on 18 November 2017

What furniture size suits barbie?





The Dolls House Boutique Response
1:6 scale dolls houses are best suited to Barbie. Unfortunately, 1:6 scale furniture is not available separately.
---
What is a doll's house scale?

By:

Hilda Lucantonio

on 11 October 2017

Excellent guide I have been looking for ages to find the difference in scales and this has been great Thank You, Hilda
---
Helpful

By:

Alison Whitingdale

on 16 May 2017

Thanks for this guide - I found it explained scales well. I now know what I should get.
---
Leave a comment