Dolls House Scale Guide
Author: The Dolls House Boutique


When buying a dolls house and furniture or dolls to go in it, it's important to consider the scale of the house and accessories to ensure it will all work nicely together. We often get asked the same 3 questions about dolls house scales. Firstly, what the scale itself means. Secondly, can you mix and match furniture sizes, and, thirdly, which is the best scale for my child? We hope this guide gives you the information you need to feel confident when purchasing a dolls house:
What is a doll's house scale?
Dolls houses are typically designed to replicate a real house and to add an element of realism their proportions tend to follow similar dimension ratios, too. Each product on our website includes a scale icon which helps to show its size and the proportions to which it's been designed. Dolls House scales are measured in imperial measures, and, in simplest terms can be broken down by the following formula:
1

inch on the dolls house = x inches on a real item
We explain each scale further below:
1:6 Scale
The 1:6 dolls house scale is sometimes called the Fashion Doll scale. They are suited to Barbie or similar 30cm tall dolls. KidKraft dolls houses are made in this scale. These dolls houses are the largest ones available and consideration needs to be given to whether they will fit into the space available.

1:12 Scale
1:12 scale is sometimes called one-inch scale and means 1 foot (or 12 inches) on a real item that has been scaled down to 1 inch. If you measure the ceiling in your house and it's 10ft, it would be 10in in the dolls house. This is the most common scale for children's dolls houses and our Le Toy Van and Hape houses and furniture are designed according to this size.
1:16 Scale
The 1:16 dolls house scale is sometimes called the 3/4 scale. One inch in this scale equals 16 inches on a real item, or 3/4 inch equals 1 foot. Djeco and Sylvanian Families (excluding the animal figures) are made in this scale.
1:18 Scale
Lundby dolls houses are made in the scale of 1:18 (sometimes called 2/3 scale). The same scaling rules apply as above: 1 inch in this scale equals 18 inches on a real item.
Which furniture scales work together?
Not all furniture will fit into all dolls houses and large furniture may clutter the rooms of a smaller scaled house or simply not fit at all. Smaller scaled furniture can sometimes work nicely in a larger dolls house as it can give the rooms a grand feeling as the ceilings will look taller. We do recommend selecting items from the same scale though, as your dolls house could end up looking mismatched otherwise. It's completely up to you what furniture you put into your dolls house but this table may help narrow the items you consider:
SCALE
COMPATIBILITY
GUIDE

Furniture Scale

1:6

1:12

1:16

1.18

Dolls House Scale

1:6

1:12

1:16

1.18
Which scale is best for my child?



This completely depends on the age of your child, their fine motor skills and how gentle they are in their play. You may find a larger dolls house (e.g. 1:12 scale) is better for younger children as the pieces are bigger and typically easier to handle by little hands while a smaller house will often have more detailed features which could be better suited to a slightly older child who can interact with it more easily. This isn't always the case though, so each product has a recommended age icon to help you decide.

Many furniture sets come with miniature accessories like cups and books and if you have a child under 3, we recommend putting these aside until they are older as they could pose a choking hazard. Any products that don't meet the Australian standard for under 3 year olds have this symbol on them.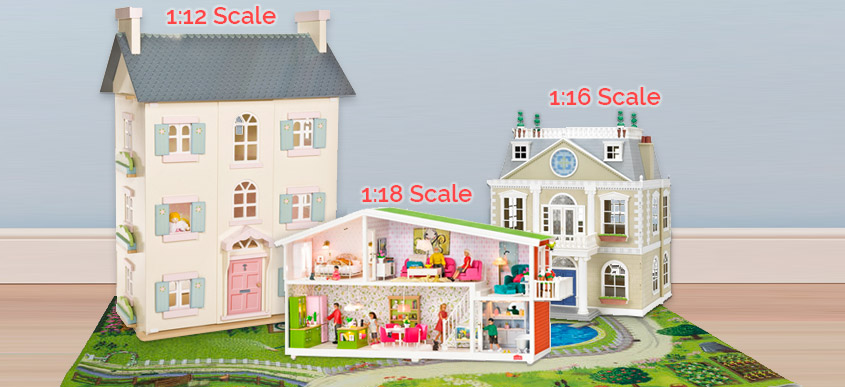 ---
Comments (20)
Le toy van and Hape

By:

Lisa Visagie

on 11 May 2019

Hi, i have a Hape family mansion. Which of the Le Toy Van style furniture sets will work well? Daisy lane, sugar plum etc. Thanks.





The Dolls House Boutique Response
Hello! Any of the Le Toy Van sets will be okay size wise as they are all 1:12 scale.
---
Djeco in Lundby dollhouse

By:

Katrina

on 6 May 2019

Hi, Would Djeco furniture and families look too small in a Lundby house? Thanks,





The Dolls House Boutique Response
No, Djeco furniture and dolls work well in a Lundby house as they are small enough scale wise and delicate enough to not dominate the smaller room sizes. Many of our customers use Djeco for their Lundby houses.
---
1.16

By:

Sher

on 24 February 2019

Hi. I have a Sylvania families dolls house. Will lundby kitchen furniture fit it? I'm thinking the house is not going to be high enough? I'l be disappointed if not because I'm decorated the whole house in modern style no problem but I can't get a nice modern kitchen that will fit. Lundby would be perfect. Thanks X





The Dolls House Boutique Response
Unfortunately, I think you may find the Lundby kitchen will be too high for a Sylvanian Families house. Is it one where the room height is 14cm? With the Lundby green or white kitchens the cabinet is 13.5cm while the fridge is 12.5cm. It should fit, but may look out of proportion. The Djeco kitchen set may work though as the cabinets are low and the fridge is 11.5cm tall. The Sylvanian fridge looks quite modern so could be an option to pair with the low benches in either Lundby or Djeco. We do offer 30 day returns so if you want to try the sets and they don't work, then you can easily return them. Hope this helps!
---
Hape all seasons dolls house

By:

Alexia

on 6 February 2019

Hi We have an hape all seasons play house and wanted to update it for our daughter. Would Lundy, djeco or Sylvanian family furniture fit best. My daughter would like to put lol dolls in there with mainly the lil sister dolls?





The Dolls House Boutique Response
The Hape All Seasons house is 1:12 so any of the 1:12 ranges will work best within the space (Hape, Le Toy Van or Plan Toys). Lundby (but no lights will function) or Djeco may also work but will look smaller in the space. They are also more fragile so worth keeping that in mind for every day play. I'm not sure what height the lil sister dolls are, but as long as they aren't over 10cm tall then any of these ranges should be ok. Sylvanian Families may look a little old fashioned for the Hape house and LOL dolls.
---
Djeco and Plan Toys

By:

Jodi

on 18 January 2019

We have a plan toys greenhouse, would djeco furniture look ok in that scale house?





The Dolls House Boutique Response
Yes! It would work really well in that house as while it's a slightly smaller scale, it is still very close to the right size and is the right style.
---
Leave a comment