The Importance of Pretend Play and the role Dolls Houses can play
Date Posted:1 September 2016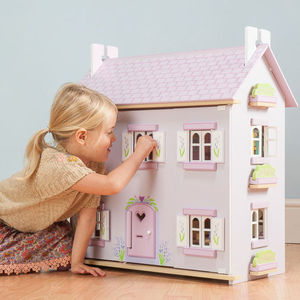 Pretend Play is essential to a child's development as it has been proven to contribute to the young person's physical, cognitive, emotional and social well-being in the long term.
On the surface, pretend play would appear as simply a fun activity for children and a way to keep them entertained. However, it goes much deeper than this because, in terms of a child's development, it contributes to the young person's physical, cognitive, emotional and social well-being in the long term.
In addition to promoting development, pretend play is a wonderful opportunity for the parent and child to bond.
Providing a sense of balance in their lives, pretend play gives children the unique opportunity to express their creativity. This is achieved by freely using their imagination together with their still developing emotional, physical and cognitive talents and strengths, thereby increasing their emotional maturity and social competency.
Allowing a child free access to pretend or imaginary play enables them to naturally express and work through any positive or negative feelings and integrate emotion with effect.
When children use toys such as dolls houses to mimic real life scenarios, they gradually learn valuable life and social skills such as empathy, communication, and problem solving.
Pretend play encourages organizational, classification and fine motor skills. It also naturally teaches the child how to use her own creativity and intelligence. A dolls house is the ideal toy with which to encourage pretend play as it also teaches role play and how to take turns and delay gratification, if played with another child. The tiny furniture, decorations, accessories and miniature people in a dolls house are also great ways for a child to further develop fine motor skills. When decorating a dolls house, the child's creativity is enhanced.
Young children love toys that closely resemble real life. As the ideal toy for pretend play, a dolls house is an elaborate facsimile of real life. When sitting down to play with her dolls house, your child can invent an extended and complex story about the characters that live within the dolls house and have great fun acting out their lives.
A dolls house is also a wonderful teaching aid for parents. Explaining a difficult concept can sometimes be easier explained while acting it out within the dolls house than explained in words alone!
Imaginary play and games enable children to develop essential skills. By using their bodies and minds to accomplish goals in play, they become more self-confident, self-aware and secure in themselves and others. In addition, games in which they play various roles help them to develop communication and negotiation skills, and assist them in sharing and considering the feelings of others.
Creative play, thought and problem-solving through puzzles and similar games is essential in assisting children work through problems in real life. This helps them to perform better in school as they tend to take a creative and imaginative, problem-solving approach to school tasks.
As a child becomes older, so too does his or her play inevitably change. However, this does not mean that it becomes any less important to the child. We must therefore never underestimate the extreme importance of play in our children's lives and we should always ensure that we allocate sufficient time to this important activity.
---
Comments (1)
Good – I should ce

15 May 2017

Good – I should certainly pronounce, impressed with your site. I had no trouble navigating through all the tabs as well as related info ended up being truly easy to do to access. I recently found what I hoped for before you know it in the least. Quite unusual. Is likely to appreciate it for those who add forums or something, website theme . a tones way for your customer to comtinucame. Excellent task..
---
Leave a comment